As the deadline to enter the 2020 Future Faces awards looms, it gave me a moment to reflect on winning awards and why representation is so important.
Before being crowned the Future Face of Entrepreneurship at the 2019 Awards Ceremony, I put nominations in for the award in 2017 & 2018 but unfortunately on both occasions I didn't make the shortlist. Despite this, I decided to attend the 2018 ceremony at the prestigious Symphony Hall in support of some of the people I knew who were shortlisted. I remember sitting in a packed room of about 500 people thinking other than the four other people I came with and a couple of others, nobody in the room looked like me (not counting the approximately 90% serving staff). More importantly, I also remember not one of the winners that night that took an award home looked like me. They were all white! I sat in my seat and wondered how do people of colour, specifically black people aspire to be something if they don't see themselves? It was in that moment I vowed that I was going to win one of these awards so I can somewhat be a role model to the kids from my community. I wanted them to see themselves in me. Representation matters. I instantly picked up a 'winners' social media board, and although I wasn't even shortlisted I took a picture with it to just merely speak the win into the atmosphere. I needed to see a visual sign of myself or someone who looked like me as a winner of this award. You see, as humans we often need visual representations to show us something is possible. This picture was mine.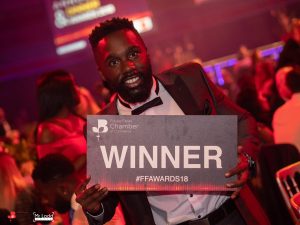 Fast forward one year, after hard work I put in for the same award and the thing I visualised and  saw myself winning the year before became a reality. I was crowned the Future Face of Entrepreneurship. I believe because I took this 'fake' picture it allowed me to see myself as a winner of one of these awards and as a result it was achievable, even for someone with my melanated skin tone.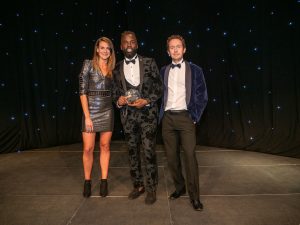 Winning awards can do many things for your brand and company. Not only does it give you visibility and can attract customers, staff, stakeholders and investors. Awards in some ways can validate your offering and provide a third party endorsement of all your achievements and can also give you an edge over your competitors. This edge is something that black owned businesses needs to try and level the playing field in business. It is said that less than 1% of venture capital investment is given to black owned businesses.
If you are a person of colour and are not sure about nominating yourself or someone else for one the city's business awards, please do. Is important that our young people see positive representations from people that look like them, so they too can go onto achieve. The change starts with us!
The deadline to submit entries for the Future Face Awards is Friday 31st July 2020 at 5pm. More info can be found here.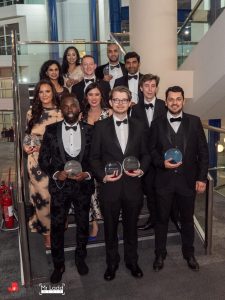 All images taken by Edwin Ladd