Award-winning serial entrepreneur and activist Tru Powell has partnered with established diversity and inclusion training provider AKD Solutions to provide exclusive diversity training in the wake of the Black Lives Matter movement. The news comes after the recent death of George Floyd in Minneapolis whereby a police officer brutally killed George, a black man live on camera. The death created a global outcry and put major focus on race relations around the world.
The bespoke programme will seek to supply much needed knowledge around diversity and inclusion. It will help audiences understand race on a deeper level and equip them with greater confidence and competence to make a real difference in their communities, workplace and wider surroundings.
Tru Powell is a serial entrepreneur in the Midlands and the cousin of Mikey Powell, a man who died in police custody in 2003, similar to circumstances of George Floyd. Tru believes his personal experiences alongside his ability to engage and challenge leaders to think differently will be the perfect fit for AKD Solutions for this specially curated project.
Speaking on the partnership, Powell said,
"I am super excited to have formed such a partnership with AKD Solutions. AKD has been doing so much great work and I feel together we can do so much more. It's now not enough to post up a black square in solidarity for black lives, but then continue to do the same thing you've always done. The call for change is now and it first starts with learning and understanding. This is why this partnership is so necessary."
AKD Solutions is an international learning and development consultancy. They design and deliver innovative learning solutions and everything AKD does is underpinned by an ethos of Stimulating Brilliance. Akin Thomas is the founder and CEO and he is supported by a great team including Midland-based Senior Associate Melissa Shervington.
AKD offers a range of learning solutions that are underpinned by the belief that people learn more when they're having fun.  Most famous for designing learning maps (large board games!), that explore difficult subjects in an engaging, challenging but fun way, AKD seeks to create long-lasting change.  Clients include Warner Brothers, Sony Playstation, The Big Lottery, UK Athletics and more.
Akin said,
"We are really pleased to have partnered with Tru Powell on this project. Tru's personal experiences is one that needs to be heard to challenge thinking in a safe space. At AKD we have such a unique way of delivering training and our innovative approach to diversity and inclusion has supported organisations across different sectors to shape a new narrative and develop more inclusive strategies and tangible improvements.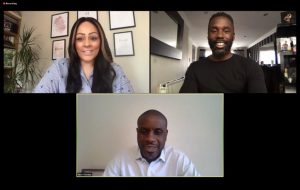 For more information please contact
Tru Powell
+44(0)7539 384862
Akin Thomas
+44(0)7802 291500
Melissa Shervington
melissa.shervington@akdsolutions.com
+44(0)7477 488270