#15YearsDeep and Counting…
June 13, 2017
Fathers take a bow!
June 18, 2017
On Friday 9th June 2017, several months of planning resulted in a show stopping celebration held in the heart of Aston, the Guhring Opening Ceremony. The Alternative Events Company planned and delivered the exquisite opening ceremony which celebrated Guhring's move to the 3.5 acres and 60,000 sq ft facility in May.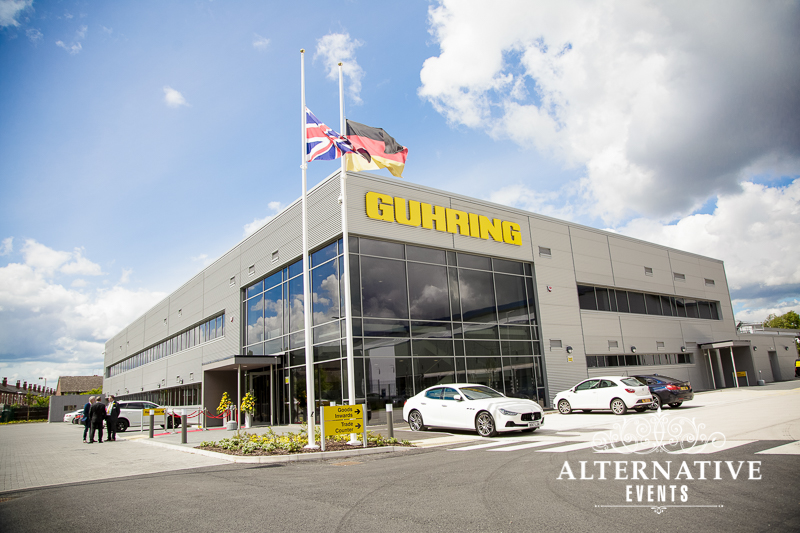 The Alternative Events Company took great pleasure in planning and managing every aspect of this event and turning a run of the mill office and manufacturing warehouse space into jaw dropping events spaces. Despite the venues limitations in that it doesn't usually host events of this magnitude, it provided the perfect opportunity for Alternative Events to tap into their creativity to create a dynamic, mind-blowing space both Guhring and The Alternative Events Company envisioned.
Stilt walkers welcomed over 250 guests as they walked down the red carpet entrance before registering. Upon arrival they were treated with a selection of canapés and a glass of bubbly as a sting quartet, Birmingham Conservatoire's, Nero Strings provided the perfect ambience whilst guests networked. Guests were then treated to exclusive tours of the site before being led to the production area where the main event took place.
Once guests were all seated, they were welcomed by Guhring's Managing Director, Mike Dinsdale. Mike then introduced Rev Philip Notts who did a short prayer and held a minute silence for a former staff member who recently, sadly passed away. This added a beautiful, emotional, sincere moment to the event.
Following this, speeches where made from Cllr John Clancy, Leader of Birmingham City Council, Andy Street, Mayor of West Midlands, David Atkinson from Lloyds Bank, Prof. Carl Chinn from University of Birmingham and Dr Joerg Guehring, Chairman of Guhring who flew in specifically for this event from Germany. The event was hosted by award winning actor and TV presenter, David Harewood MBE.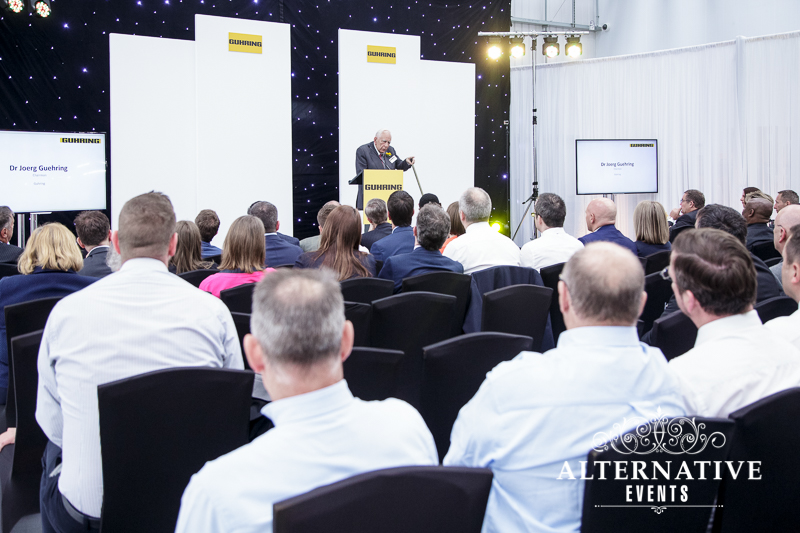 The highlight of the afternoon was the official ribbon cutting, which was done by Dr Guehring. Following the eagerly anticipated ribbon cutting, guests were led to The Aston Tavern Pub (next door) by the vibrant Gabhru dhol drummers. On route to The Aston Tavern, guests were treated to an exclusive demonstration of the infamous Sir Killalot and Shunt robot from Robot Wars.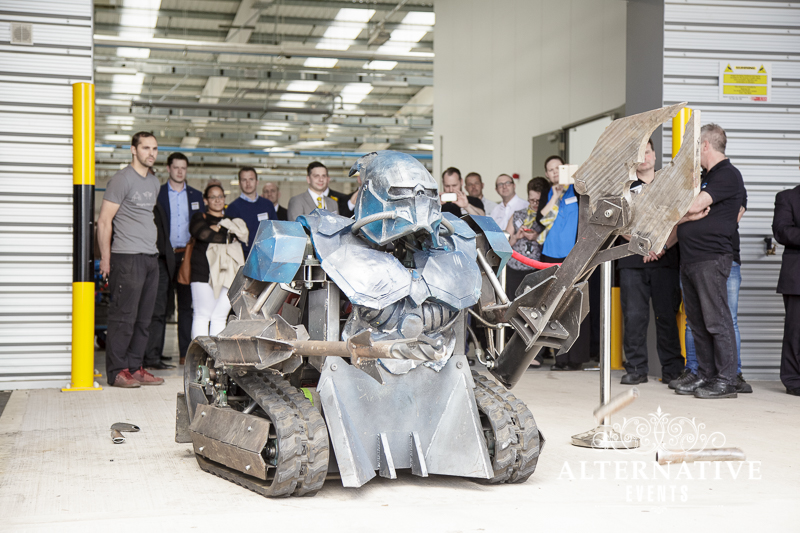 Following a delicious lunch, the afternoon was closed by Birmingham's answer to Glee, The Aston Performing Arts Academy. The energetic and dynamic young people performed a variety of hits for the guests to enjoy on an outdoor stage where guests mingled in the blazing sun.
The Alternative Events Company had great pleasure delivering this event for Guhring from the initial concept right through to the delivery. It truly was a remarkable day to remember with great feedback all round.
Have a look at some of the images that were taken from the amazing Lensi Photography here.